Thank you for the kind words about RE Sex Virus 2.
Im happy I managed it somehow without the problems I had while I was working on ep1 .
Im working already on the next project :
Ultimate Tournament : "Intermission"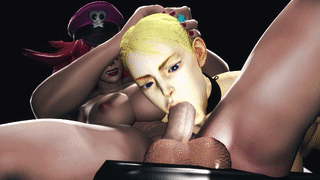 Progress Report
Patreon https://tinyurl.com/4yuuebrr
Subscribestar https://tinyurl.com/4cz4ere3
Teaser 2/3 16 seconds
Patreon https://tinyurl.com/dycnpnp8
Subscribestar https://tinyurl.com/2vmvxtb9
"What is this title/episode about ?"
Last released episode :
https://newgrounds.com/portal/view/746708
This is from my twitter in case you dont know.
Frequently asked questions
ETA?
Soon ,Im almost working on it everyday .
Plot?
Mika won the last match and meets the Grandmaster ,futa Poison with Juri to receive the winners reward .
(dont question 30 years of SF storytelling at all xD) .
Is this and episode or short animation / "shorty" ?
It is a mix,that's why I called it "Intermission" . In other words, I skiped the actionscenes and lots of storytelling .
Whats the next big episode?
Batman Porn Asylum 5 with Harley ,Batgirl and Black Canary but this wont be done in 1 month.